Return to Vienna – Return to Prague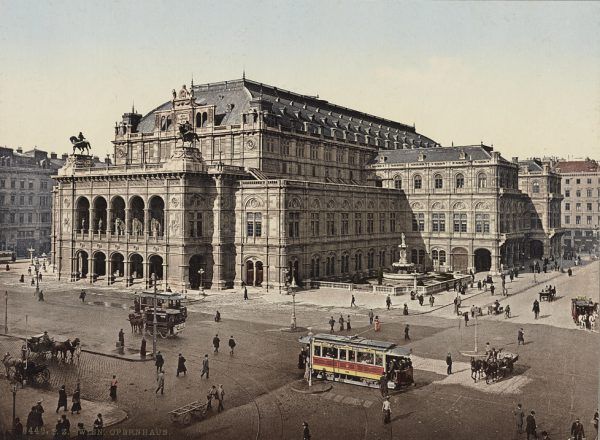 Return to Vienna / to Prague
Six months after leaving Berlin, Alexander Zemlinsky attended the premiere of his new work, Kreidekreis (The Chalk Circle) at the Zurich Opera. The opera, based on a play by the writer and poet Klabund (1890-1928), was inspired by a medieval Chinese tale (Hui-lan-chi, by Li-Hsiang-tao) which Brecht would reuse in 1945. The premiere was a success, winning praise in Switzerland and the United States, perhaps due to the influence of Artur Bodanzky (1879-1939), the conductor of the Metropolitan Opera in New York, who was Mahler's assistant at the Hofoper after having studied with Zemlinsky, and who premiered the latter's Sechs Gesänge in 1924 and his Psalm 23 in 1927.
Bodanzky would play an important role in Zemlinsky's life after his arrival in the U.S., following Austria's annexation by Nazi Germany in 1938 and at the same time as the former Alma Mahler (who had meanwhile become an admirer of Il Duce and the Führer) and her husband Franz Werfel, for whom Zemlinsky had composed a song for voice and piano based on Werfel's Ahnung Beatricens.
Another of Zemlinsky's former students, Erich Korngold, had responded to Max Reichardt's invitation and moved to Hollywood, on the other side of the country, where he became one of the greatest composers of film music. Although Zemlinsky had realized after a mere eighteen months that he could teach the twelve-year old Korngold nothing more, he would always treasure the memory of his lessons with Zemlinsky, and it comes as no surprise that his mentor's instruction continued to influence his music thirty years later.
But Zemlinsk's deepest affection was probably for Alban Berg. He maintained his most long-lasting friendship with Berg, whom he and Schönberg taught in Vienna in 1904. Berg's sudden death in Vienna on Christmas Eve 1935 left Zemlinsky deeply distraught. He cancelled his engagements abroad and spent three months composing a tribute to his friend, the String Quartet no. 4, op. 25, which he subtitled "Suite", in homage to Berg's Lyric Suite (1924), which itself was named after Zemlinsky's Lyric Symphony.
The following year, Zemlinsky accepted an invitation to conduct the Orquestra Pau Casals at the Liceu Opera in Barcelona in February 1936. Since his departure from Berlin he had continually conducted in foreign capitals: several times in Prague as well as in Paris, Rome, Warsaw, and the URSS, in particular at the Leningrad Theatre of Opera, and even in the German capital, where the director of the State Opera managed to schedule twenty performances of The Chalk Circle in 1934 before the Nazis intervened.
These successes offered Zemlinsky a material comfort that he had not experienced before. He and Luise Sachsel (1900-1992), a former student twenty-nine years his junior whom he married less than a year after his first wife Ida's death in 1930, bought a piece of land in the residential suburb of Grinzing. There, in 1934, they built a villa designed by Walter Loos (1905-1974), whose style resembled that of the famous Viennese architect Adolf Loos (1870-1933), though the two were not related. The couple was not able to enjoy their newly built home for long, however. On 12 March 1938, German troops invaded Austria, and on 10 September Luise, Alexander, and their daughter Johanna went to Prague.