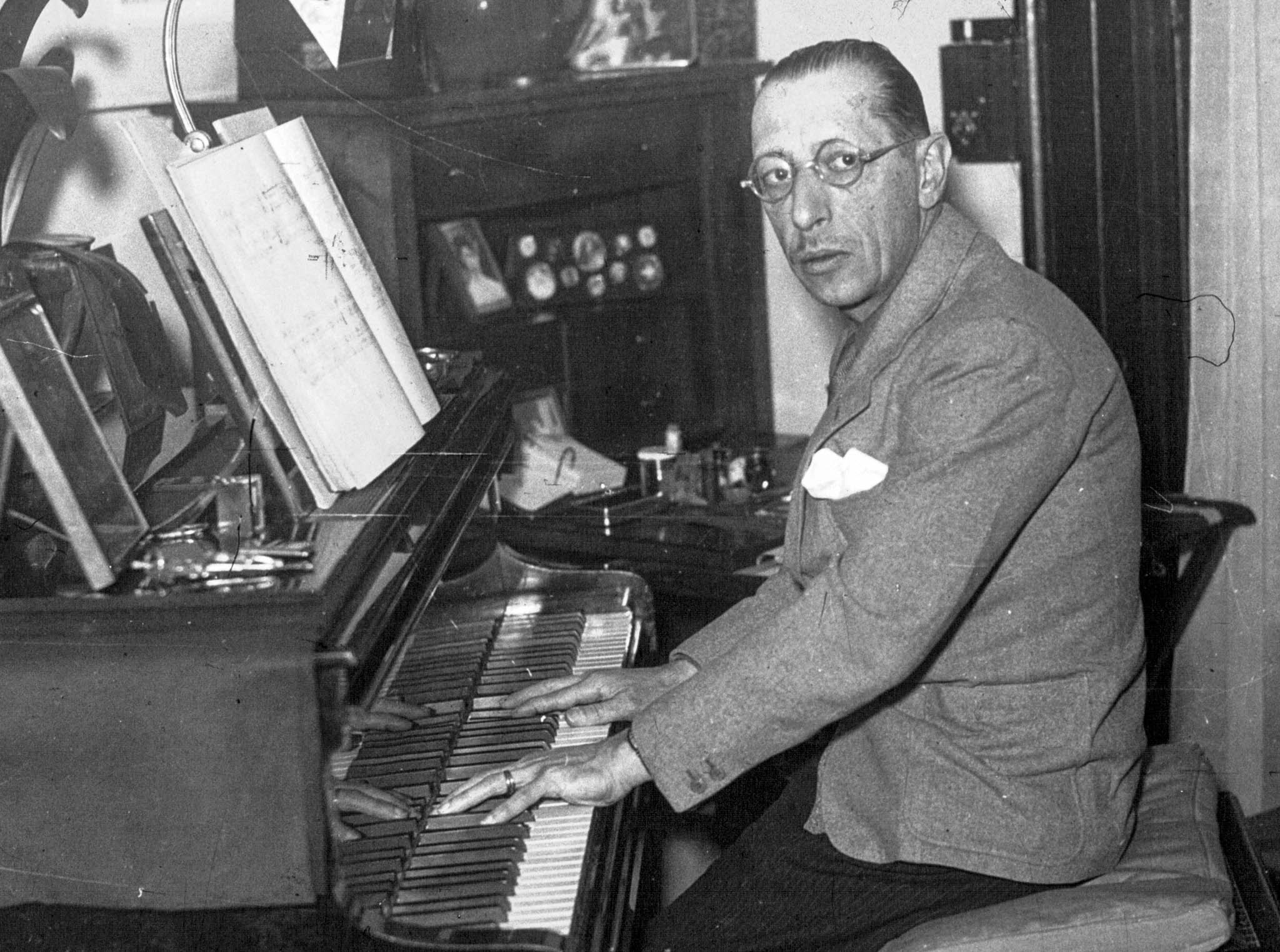 "Mark him well, Diaghilev pointed to Stravinsky. He is a man on the eve of celebrity."
Tamara Karsavina, Theatre Street (1931).
Igor Stravinsky (1882-1971), until then unknown in France and aged just 28, became famous overnight, thanks to The Firebird in 1910. Born into a family of landowners and artists (his father was a bass-baritone at the Imperial Theatre), he was a self-taught musician. It was not until quite some time later, at the age of 24, that he received lessons from Rimsky-Korsakov, from 1906 until the master's death in 1908. By this time, Stravinsky had managed to get some of his works played by the Court Orchestra, at the Belaiev concerts and at the Contemporary Music Evenings organised by two former miriskusniki, Walter Nouvel and Alfred Nurok. It was after listening to Scherzo fantastique and Feu d'artifice that Diaghilev gave Stravinsky his first two commissions: the orchestration of two Chopin pieces for Les Sylphides (on the programme for the 1909 season) and his first ballet, The Firebird, for the following season.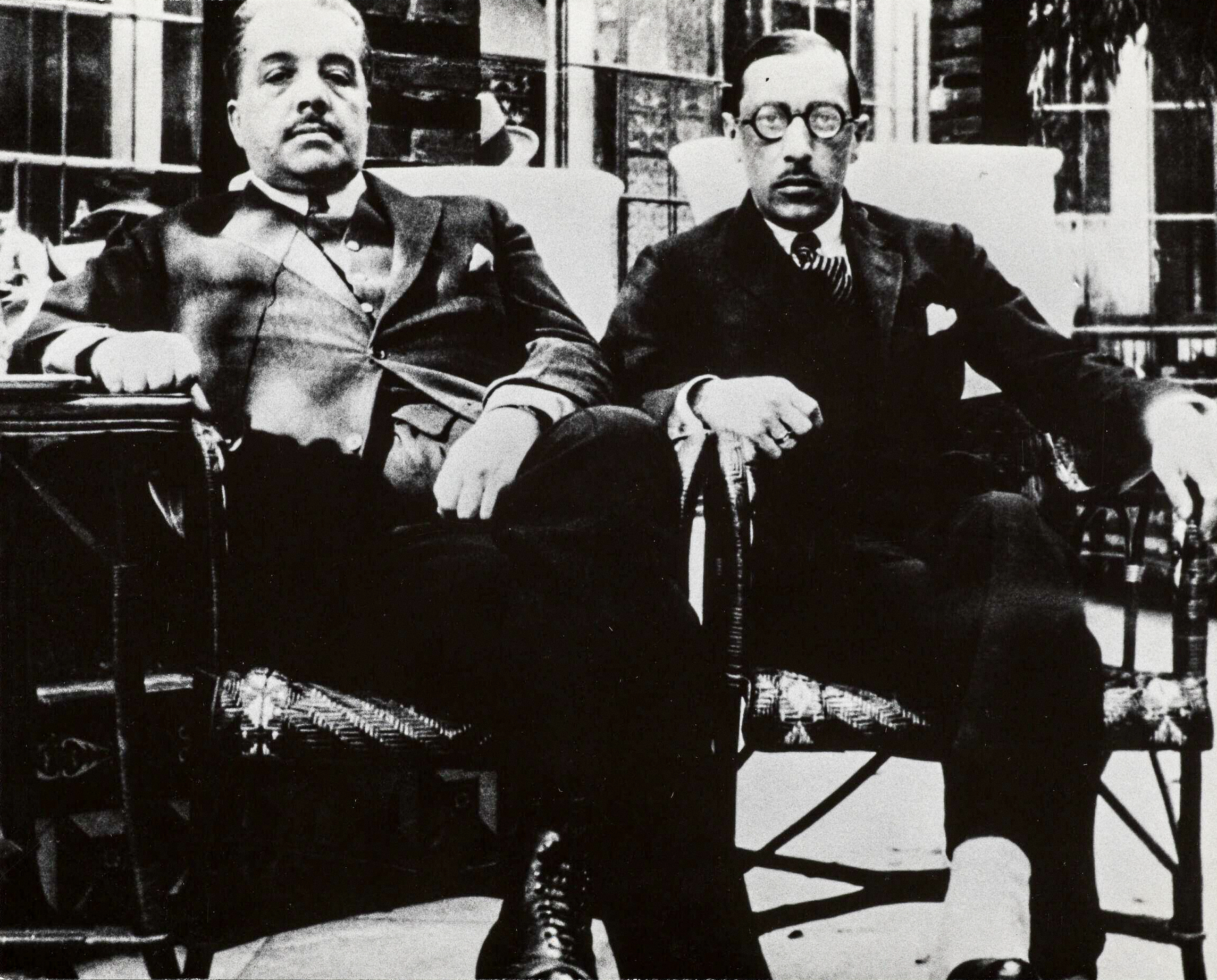 Born Russian, naturalised French (1934), then  American (1945), he settled first in Switzerland and then in Paris in the early 1920s. After his first success with The Firebird, his promising musical career was marked by the friendship and support of Diaghilev, for whom he wrote ballets and operas: Petrushka (1911), The Rite of Spring (1913), The Nightingale (1914), Feu d'artifice (1917), The Song of the Nightingale (1920), Pulcinella (1920), Renard (1922), Mavra (1922), Noces (1923), Œdipus Rex (1927) and Apollon musagète (1928).
"I have recently seen Stravinsky… He says: 'my Firebird', 'my Sacre', like a child saying: my top, my hoop. And that's exactly what he is: a spoiled child who, on occasion, gives music a tweak on the nose. He's also a young savage who wears loud ties, and kisses the ladies' hands while stepping on their feet. When old, he'll be unbearable, that is to say, he won't be able to bear any kind of music; but, for the moment, he is incredible."
Claude Debussy to Robert Godet, 4 January 1916.
Stravinsky's early works bear witness to the influence of Russian composers (notably Rimsky-Korsakov, Glazunov, Borodin, Mussorgsky, Glinka and Tchaikovsky) and French composers (Dukas, Debussy and Ravel). Although his first listeners noticed the unprecedented character of his music (the preponderance of rhythm, the repetitive motifs, the use of folk themes, the opposition of tonal poles, the superimposition of lines, etc.), they came up against the difficulty of defining Stravinsky's style through works that were at first sight so disparate. For his friend and biographer André Schaeffner (1895-1980), each of Stravinsky's compositions reflects a specific problem that he sought to resolve in a very personal way. These observations echo the composer's own statements in 1935: "I have always preferred, and still prefer, to realise my ideas and solve the problems that arise in the course of my work, using only my own strength, without having recourse to established procedures".